Dear EOSBet Community,
We are pleased to announce a brand-new feature: The Crypto Millionaire Maker Jackpot! This feature is now available on each of our existing games and adds an extra element of thrill to each bet. We can't wait to see who the first big winner will be!
The rules are simple:
Wager at least 1.0 EOS or 0.001 BTC on any game
Click the new "jackpot" box to enter. The cost is 0.05 EOS or 0.00005 BTC
As your game bet resolves, the jackpot spin will also resolve
Roll a 7,777,777 and win! If you lose, your bet will be added to the jackpot pool.
Although you must roll seven "7"s, we have made the odds more favorable at 1/2,500,000. The longer it takes for someone to win, the larger the jackpot will be!
Once the jackpot is won, 90% of the pot will go to the winner! The remaining 10% of the jackpot will be sent to BET holders (i.e. distributed as dividends). The user will be required to claim the jackpot via a telegram message or an email. We will then verify the win and send the user his/her funds. This manual verification is purely out of caution, as the pot can get very large (multiple millions of dollars).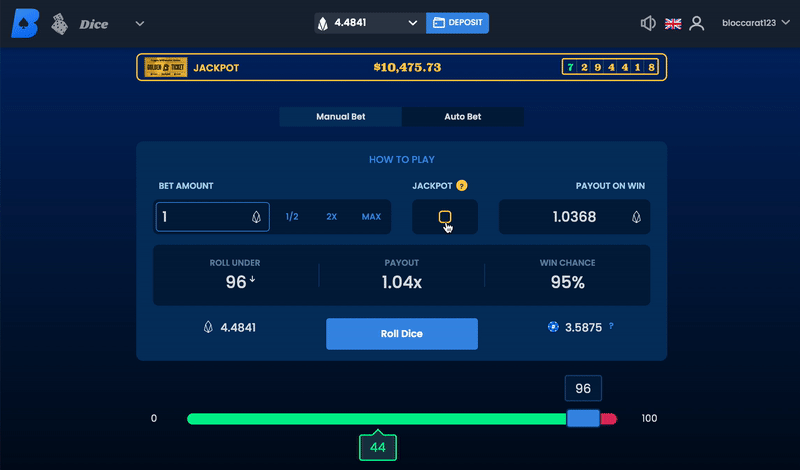 In addition to being entertaining for our current players, we also believe this feature will help us boost volume to new heights and serve as a substantial marketing draw to the platform, especially as the jackpot grows in size. We will be the first crypto gaming site to offer a provably fair jackpot system with massive payouts!
As a promotion for the first jackpot, we are adding an initial 1,000 EOS and 1.0 BTC to the pot! This has brought the prize pool over $11,000 and will be awarded to the winner!
Who wants to be the first Jackpot winner? Play now at EOSBet.io
Cheers,
The EOSBet Team